Atlanta, GA – Midtown
Address :
450 14th Street NW, Atlanta, GA 30318
Phone Number :(404) 480-9797
Fax Number :(404) 410-7707
Hours :Mon-Fri 8am-8pm
Sat-Sun 9am-6pm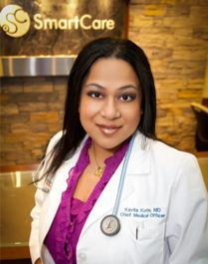 Dr. Kavita Kotte
Received her training in medicine at Mercer University School of Medicine in Savannah, GA. and shares strong ties with her local roots in both the Brookhaven and Roswell communities. She attended Roswell High School and lives in Brookhaven,GA with her family.
Read More
Injuries
Lacerations
Cuts
Scrapes
Bruises
Minor eye injuries
Bites
Minor burns
Minor back injury
Minor fractures or dislocations
Sprains
Sports injuries
Work-related injuries
Illnesses
Fever / Cough
Cold or Flu
Upper respiratory infection
Bronchitis
Ear infections / Ear ache
Sore throat
Urinary tract / Bladder infections
Wheezing/Asthma attacks
Swimmer's ear
Poison ivy
STD testing
Pregnancy testing
Pink eye
Nausea
Vomiting
Diarrhea
Mild Constipation
Acid Reflux / GERD
Dehydration
Rashes
Vaginal infections
Mononucleosis
Swollen glands
Mild Allergic reactions
Gout / Joint pain
Hyperglycemia (high blood sugar)
Hypertension (high blood pressure)
Abscess / Boils
Skin infections
Ingrown toe nails
Physical Examinations
Sports Physicals
Pre-employment physicals
Pre-employment testing
About The Midtown Atlanta Urgent Care Center
The SmartCare Urgent Care Center in Midtown Atlanta is conveniently located in the West Midtown community, within the Home Park neighborhood. The healthcare clinic is open 7 days a week, with no appointment necessary. SmartCare is located on 14th Street, very close to Georgia Tech, Northside Drive, Howell Mill Road, and Spring Street. Whether you are visiting Atlantic Station or live in the Home Park community, SmartCare Urgent Care is here to provide "Doctors when YOU need them". The board-certified doctors at this urgent care clinic are trained to treat minor cuts and sprains, as well as minor burns, sexually transmitted diseases, and more. The West Midtown Atlanta walk-in clinic is also equipped to provide B-12 shots, Flu Shots, and student health services such as vaccines. SmartCare Urgent Care accepts most major insurance providers, including Aetna, Blue Cross and Blue Shield of Georgia, and CIGNA. Insurance is not required, however, as SmartCare also offers affordable self-pay rates for patients.
http://smartcareuc.com/opening-week-at-smartcare-urgent-care-midtown
.