Brookhaven, GA
Address :
4400 Peachtree Road NE, Brookhaven, GA 30319
Phone Number :(404) 814-9199
Fax Number :(404) 869-8118
Hours :Mon-Fri 8am-8pm
Sat-Sun 9am-6pm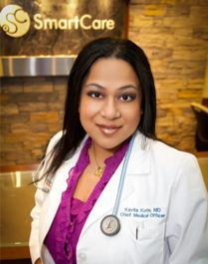 Dr. Kavita Kotte
Received her training in medicine at Mercer University School of Medicine in Savannah, GA. and shares strong ties with her local roots in both the Brookhaven and Roswell communities. She attended Roswell High School and lives in Brookhaven,GA with her family.
Read More
Dr. George Aristide
Board certified Emergency Medicine, Dr. Aristide received his training at University of Miami School of Medicine and went on to complete his residency in Emergency Medicine at University Medical Center in Jacksonville, FL. He is fluent in French and Spanish.
Read More
Injuries
Lacerations
Cuts
Scrapes
Bruises
Minor eye injuries
Bites
Minor burns
Minor back injury
Minor fractures or dislocations
Sprains
Sports injuries
Work-related injuries
Illnesses
Fever / Cough
Cold or Flu
Upper respiratory infection
Bronchitis
Ear infections / Ear ache
Sore throat
Urinary tract / Bladder infections
Wheezing/Asthma attacks
Swimmer's ear
Poison ivy
STD testing
Pregnancy testing
Pink eye
Nausea
Vomiting
Diarrhea
Mild Constipation
Acid Reflux / GERD
Dehydration
Rashes
Vaginal infections
Mononucleosis
Swollen glands
Mild Allergic reactions
Gout / Joint pain
Hyperglycemia (high blood sugar)
Hypertension (high blood pressure)
Abscess / Boils
Skin infections
Ingrown toe nails
Physical Examinations
Sports Physicals
Pre-employment physicals
Pre-employment testing
"Great place when your doctor is unavailable or you want complete service in a one stop visit."
– Matt D