4400 Peachtree Road N.E.
Atlanta, GA 30319
(Located next to Oglethorpe University
in front of Town Brookhaven)
PHONE
404-814-9199
HOURS
Monday – Friday: 8 a.m.-8 p.m.
Saturday/Sunday: 9 a.m.-6 p.m.
"I was on vacation near here over the Christmas holiday. I was very impressed with the cleanliness of the facility. May not be the most important thing but during flu season, it means a lot to me. I was seen by a doctor after just a short wait and I was very pleased with the overall experience. I do not like going to the doctor's office very often but this place made it a decent experience. I would suggest them as a great choice for an immediate care business."
-S. Larkin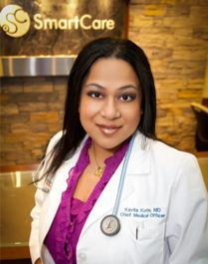 Dr. Kavita Kotte leads SmartCare Urgent Care's clinical team. Dr. Kotte received her training in medicine at Mercer University School of Medicine in Savannah, GA. and shares strong ties with her local roots in both the Brookhaven and Roswell community. She attended Roswell High School and now lives in Brookhaven,GA with her family.
Dr. George Aristide is a young, dynamic Board certified Emergency Medicine physician originally from NY, who received his training at University of Miami School of Medicine and completed his residency in Emergency Medicine at University Medical Center in Jacksonville, FL. He is fluent in French and Spanish. He brings years of experience in both Emergency and Urgent Care medicine to best serve SmartCare patients.
Injuries
Lacerations, cuts, scrapes
Bruises
Minor eye injuries
Bites
Minor burns
Minor back injury
Minor fractures or dislocations
Sprains
Sports injuries
Work-related injuries
Illneses
Fever / Cough / Cold or Flu
Upper respiratory infection
Bronchitis
Ear infections / Ear ache
Sore throat
Urinary tract / Bladder infections
Wheezing/Asthma attacks
Swimmer's ear
Poison ivy
STD testing
Pink eye
Nausea / Diarrhea / Vomiting / Mild Constipation
Acid Reflux / GERD
Dehydration
Rashes
Vaginal infections
Mononucleosis
Swollen glands
Mild Allergic reactions
Gout / Joint pain
Hyperglycemia (high blood sugar)
Hypertension (high blood pressure)
Abscess / Boils
Skin infections
Ingrown toe nails
Pregnancy testing
Physical Examinations
DOT Physicals
Sports Physicals
Immigration physicals
Pre-employment physicals and testing